Charleston Tree Services
"The Charleston Tree Doctor"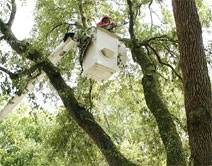 Pruning
Whether you are looking to enhance the view of your property, or provide safety to your home in case of storm damage, we offer a variety of pruning services to assist your needs. We work closely with each of our customers to improve the safety and health of your trees. For instance, deadwood left in trees can be a breeding ground for disease carrying insects and fungus which can cause extensive damage. Also, a thick or heavy crown of a tree can lead to its failure. Taking the necessary precautions by pruning your trees can prevent damage and unforeseen costs.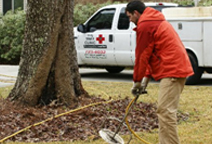 Disease Treatment
Diseases are common among trees. Without the assistance of diagnosis and treatment, many diseases spread to neighboring healthy trees and can even result in the removal of one or more of the affected trees. The Tree Clinic, LLC provides expert diagnoses allowing proper care and treatment that will ensure the health and safety of your trees and property for years to come.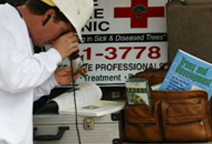 Diagnosis
Like your doctor, we diagnose ills and prescribe treatments. The difference is that our patients are your trees. Proper diagnosis is essential when dealing with pests and disease which can cause tree failure and create potential hazards. The Tree Clinic, LLC specializes in diagnosis and treatment of sick and diseased trees.
Consultations and Reports
Whether you need a building or landscape construction permit, or are just unsure what is plaguing your trees, we offer arboricultural and horticultural consultations and reports for all of your concerns and/or needs.
Construction and Development
We assist in writing development plans to establish methods for saving trees during construction. From barricading to mitigation, we can help you through the construction process by determining potential hazards and developing a program to protect and maintain the health, beauty and value of your trees.
Mitigation
We also provide arborist reports and expert testimony for mitigation with respect to protected or grand trees.
Cabling and Bracing
We specialize in cabling and bracing of trees to reduce the risk of damage from structurally weakened trees.
Removals and Stump Grinding
Although we are in the business of tree preservation to maintain healthy, beautiful trees, there are unfortunate situations that require the removal of a tree. Be it from storm damage, disease or construction trauma, we are professionally trained to handle these removals. Not only do we remove the tree, leaving the area clean of all debris, but we also offer grinding and removal services for stumps up to 18" in the ground.
Equipment
The Tree Clinic, LLC has the proper equipment to ensure safe, professional and fast service. From boom (bucket) trucks and chippers to dump trailers, air and tree spades, resistographs and cranes, we have the tools necessary to do the job right.
Tree Care & Service
The Tree Clinic is Charleston, SC's premier tree service and care provider. We offer a wide variety of Tree Services from Trimming to Health Checks we can solve your tree problems.
Tree Navigation
Contact Us Today!
TheTreeClinic@aol.com Charleston: 843-723-6032 Johns Island: 843-559-4400 Mt. Pleasant: 843-881-3778
Serving Charleston, Mount Pleasant and the surrounding Tri-County area.
The American Forestry Association #3516905 Licensed and Insured